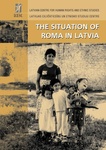 This study deals with the situation in some of the main social spheres, within which Roma in the rest of the world face direct and indirect discrimination, perpetrated not only by individuals, but also by states and their institutions.
This document has been produced with the financial assistance of the European Community and the Society Integration Foundation. The views expressed herein are those of the Latvian Centre for Human Rights and Ethnic Studies and can therefore in no way be taken to reflect the official opinion of the European Community and the Society Integration Foundation.
The Authors:
Dace Lukumiete - LCHRES researcher
Signe Martišūne - LCHRES researcher
Maija Mauriņa - project assistant
Introduction
Anti-Roma racism, just like anti-Semitism, has been recognized as an especially severe problem within the sphere of anti-discrimination in Europe and elsewhere, a problem which should receive priority attention. In Latvia, however, there has until now been no attempt to systematically collect information on the situation of Roma in the country. This could be explained with two basic reasons. First, the semi-official opinion that compared to the huge discrimination problems and open violence that Roma experience regularly in some other East European nations, the Roma in Latvia are relatively better off. Second, for the first decade of regained independence in Latvia focus within the area of minority rights was on the numerically large, Russian-speaking minorities and as a consequence, the main issues concerned citizenship and language. Using only these criteria, the impression is that all is well with the Roma in Latvia: 92% are Latvian citizens, and 66% freely speak Latvian.
On the other hand, opinion polls and anecdotal evidence indicate that negative stereotyping of Roma is widespread in society at large. Occasionally media reports information on discrimination against Roma, as the refusal to admit Roma to cafes or bars or a suspect level of violence experienced by Roma from law enforcement officials. This seeming contradiction inspired the Latvian Centre for Human Rights and Ethnic Studies to collect information on the real situation of Roma in Latvia. The research project includes several different issue-areas, and therefore it was not possible to gain enough detailed analysis of each to allow making specific area-related recommendations. The information has been collected in order to gain an overview of the real situation and to provide a basis for further, more detailed analysis in each issue-area, with the aim to elaborate concrete recommendations and a national action plan for the elimination of racism and discrimination against Roma.
Attachments
Published: 2004-02-26