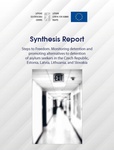 The Project "Steps to Freedom" has been initiated by the Latvian Centre for Human Rights with an objective to assess the implementation of the Community legislation on the detention practice vis-à-vis asylum seekers - including "failed"asylum seekers whose claims have been rejected by a final court decision
- in five EU Member States, namely the Czech Republic, Estonia, Latvia, Lithuania and Slovakia. In particular, the project aims at assessing whether States' legislation and practices fully comply with the European Union (EU) acquis and international standards. Lastly, the report looks at the implementation of alternatives to detention and puts forward policy recommendations with regard to further strengthening the measures that are currently being developed. The research aims at supporting the UNHCR findings and policy recommendations adopted within the framework of the Global Roundtable on Alternatives to detention of Asylum-seekers, Migrants and Stateless Persons adopted in May 2011. It also upholds the recommendations made by the EU Agency for Fundamental Rights and the policy guidelines developed by nongovernmental organizations (NGOs), such as the Jesuit Refugee Service (JRS) and the International Coalition on Detention.
This report is prepared in the framework of the project "Steps to Freedom. Monitoring detention and promoting alternatives to detention in Latvia, Lithuania, Estonia, Slovakia and the Czech Republic" coordinated by the Latvian Centre for Human Rights and implemented in co-operation with the Lithuanian Red Cross Society (Lithuania), the Jaan Tõnissoni Instituut (Estonia), the Human Rights League (Slovakia), the Organization for Aid to Refugees (Czech Republic) and the UNHCR Regional Office for the Baltic and Nordic Countries (Sweden).The project is co-funded under the European Refugee Fund.
Attachments
Published: 2011-12-30