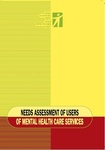 In Latvia, similarly to many other new EU member states, institutional care at psychiatric hospitals and social care homes at present is the most widespread form of care for users of mental health services. In January 2005 Latvia, together with other countries of the European Region of World Health Organisation (WHO) signed the Mental Health Declaration and Mental Health Plan of Action for Europe 2005 – 2010, which demands that the relevant authorities in each member state introduce a mental health policy and legislation harmonized with international standards and develop public care for persons with serious mental disorders to replace care in large institutions. However, to date deinstitutionalisation and development of community based services is progressing slowly.
In deciding future mental health care policy it is unforgivable not to as the views of users of mental health care services, and unforgivable to plan services without finding out the needs and satisfaction with the quality of present services, because services of mental health care are provided not for the needs of civil servants and mental health care professionals, but for the needs of users. The aforesaid WHO Helsinki Declaration calls for involvement of users of mental health care services in decision making. Furthermore, it is essential to give users of mental health care services the opportunity to affect decision making both at the legislative level and issues of day-to-day living while at an institution.
Noting that during the past two years the Ministry of Health has been drafting a new strategy for improvement of the mental health of the population for a ten year period, the LCHR thought it necessary to ask the views of mental health care services' users themselves concerning the presently available medical and social care services. Therefore, in August 2005 with the financial support of the Soros Foundation – Latvia and the European Commission LCHR in cooperation with the Union of Psychiatric Nurses of the Latvian Association of Nurses organised a poll of mental health services' users at a number of psychiatric hospitals and specialised social care homes for mentally disabled in Latvia. Although results of the poll were published a year later, the information obtained is still current, because in the hallways of Ministries work on drafting a mental health care policy is still ongoing.
Riga, 2006
Authors: Ieva Leimane-Veldmeijere, Uldis Veits
Funding: European Commission
Attachments
Published: 2006-07-20