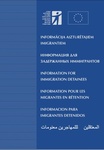 The brochure explains situations, when the police and the border guards have the rights to detain immigrants. A particular attention is paid to the rights of detained immigrants and the mechanisms of the realisation of these rights.
The information is available in Latvian, Russian, French, Spanish and Arabian languages.
The brochure has been produced within the framework of the project 'Monitoring Human Rights and Prevention of Torture in Closed Institutions: prisons, police cells and mental health care institutions in Baltic States', financed by European Community.
Attachments
Published: 2005-04-12