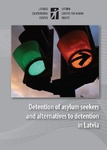 Increasing attention is being paid to the issues related to the immigration detention generally and the detention of asylum seekers in particular, at national, European and global level. This report addresses the situation concerning the detention of asylum seekers in Latvia from the perspective of the national, the European Union (hereinafter – EU) and international standards.
The report provides an independent assessment of the situation both in law and in practice and is based on legal analysis, including the analysis of court decisions on the detention of asylum seekers, monitoring visits, case work of the Latvian Centre for Human Rights and other sources of information.
This report is prepared in the framework of the project "Steps to Freedom. Monitoring detention and promoting alternatives to detention in Latvia, Lithuania, Estonia, Slovakia and the Czech Republic" coordinated by the Latvian Centre for Human Rights and implemented in co-operation with the Lithuanian Red Cross Society (Lithuania), the Jaan Tõnissoni Instituut (Estonia), the Human Rights League (Slovakia), the Organization for Aid to Refugees (Czech Republic) and the UNHCR Regional Office for the Baltic and Nordic Countries (Sweden).The project is co-funded under the European Refugee Fund.
Attachments
Published: 2011-12-29