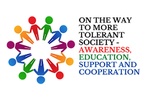 Latvian Centre for Human Rights provides free-of-charge counselling and legal aid in cases of discrimination and hate crimes.
In order to apply for consultation please contact us by email: office@humanrights.org.lv or fill-in online reporting forms:
To report on discrimination: http://cilvektiesibas.org.lv/en/database/report-discrimination/
To report hate crimes: http://cilvektiesibas.org.lv/en/database/report-hate-crime/
Counselling and legal aid are provided in the framework of the project "On the way to more tolerant society: awareness, education, support and cooperation". The project is dunded by Iceland, Liechtenstein and Norway through the EEA and Norwegian grant programme "Active Citizesn Fund"
Discrimination is a different treatment which does not have objective and reasonable grounds on the basis of protected charechteristics of persons in similar situation, and also where there is equal treatment of persons in different situations. Grounds for discrimination may be skin colour or race, ethnic or national origin, religious or other belief, language, gender, age, disability, sexual orientation and others.
Hate crimes are criminal offences directed against a person or a property motivated by prejudice/hatred due to person's race or skin colour, ethnic origin/nationality, sexual orientation, religion, disability or other features.
Hate speech can take different forms of expression (such as comments, videos, pictures) directed not against any idea or opinion, but against a persons or a group of persons due to certain features such as race or skin colour, language, ethnic origin, religion, sexual orientation, disability or other characteristics.
Published: 2021-02-07