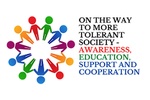 The first phase of the NGO capacity building program "On the Way to a More Tolerant Society" took place between the 18 February and 1 April 2022. A total of 28 participants took part in five online seminars, altogether representing 24 associations from different regions of Latvia.
The program aims to strengthen the capacity of non-governmental organizations to respond to manifestations of intolerance, especially discrimination and hate speech or hate crime. During the first phase of the program, participants improved their ability to identify discrimination, hate crimes and hate speech and thereby protect the rights and interests of vulnerable groups.
The following issues were discussed:
- factors increasing and decreasing intolerance;
- what is discrimination, and how to respond to it to in order to protect the interests of NGO members;
- how to recognize hate speech and hate crimes, and where to report it;
- what is the impact of hate speech and hate crimes on the individual and the society;
- what are the human rights, and what role do NGOs play in promoting human rights;
- how to plan and develop initiatives to promote tolerance.
Participants had the opportunity to actively discuss these issues by exchanging different views and ideas. In the seminars, participants could evaluate their personal experience with discrimination, analyze what qualifies as discrimination, and learn how they should respond to it. During the practical components of the program, participants presented the initial versions of their initiatives to create a more tolerant society. Program leaders shared advice on implementing successful approaches to reducing intolerance and discrimination.
The next phase of the program will take place from April to June 2022. During this phase, participants will focus on developing and implementing their own initiatives to promote tolerance. The final phase will take place from the 29th until the 30th of June. Participants will have the chance to meet once more to share their experiences and acquire additional knowledge and skills.
The educational program is organized as part of the project "On the Way to a More Tolerant Society: Information, Education, Support, and Cooperation." The project is funded by Island, Liechtenstein, and Norway through the EEA / Norwegian grant program "Active Citizens Fund."
Published: 2022-05-02