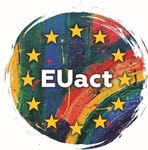 Riga and Liepaja, Tallinn and Tartu, Vilnius and Kaunas, Zagreb and Rijeka, Bucharest and Cluj-Napoca, Sofia and Veliko Tarnovo – hosted youth events raising awareness of more than 350 young people about the harm of hate speech and motivating them to stand up against it. Young people who took part in the events were pupils, students, minorities, immigrants, refugees, persons with disabilities, and other vulnerable groups. There were young people who are active in civic society activities and those who never took part in such events before. Local events outside the capitals and online helped to reached young people from rural areas.
Two local events were held in Latvia – in Riga (28 October 2021) and Liepaja (20 April 2022). 58 participants took part in both events, including 15 international participants from Estonia, Lithuania, Sweden, Italy, Greece, and the United Kingdom.
Two local events were held in Estonia – in Tallinn (22 October 2021) and Tartu (17 June 2022). 51 participants took part in both events, including participants from Latvia, Lithuania, Spain, Germany, Slovakia, and the United Kingdom.
Four local events were held in Lithuania. Two events took place in Vilnius (10 May and 9 June 2022), one in Kaunas (30 May 2022) and one online on 5 and 6 November 2021. 61 participants took part in all the events, including 8 participants from Latvia, Germany, France, Italy, Portugal, Czech Republic.
Two local events were held in Croatia – in Zagreb (3 June 2022) and Rijeka (10 June 2022). 51 participants took part in the events, including 10 participants from Germany, Austria, Serbia, Bosnia and Herzegovina.
Three events were conducted in Romania. Two events took place in Cluj-Napoca (7 May 2022) and Bucharest (14 May 2022) and one online on 13 November 2021. 53 participants took part in the events, including 7 participants from Poland, France, and Italy.
Four local events held in Bulgaria. Three events took place in Sofia (9 April and 17 May 2022), one on Veliko Tarnovo (15 May 2022) and one online on 10 and 12 May. Events gathered 83 participants, including 14 participants from Sweden, Portugal, Italy, Romania, Belgium, Spain, Slovenia.
All the youth events were organised in accordance with methodology elaborated jointly by all project partners. The events had a form of open debates mixed with educational activities based on non-formal education, experiential learning, human rights education and democratic education approaches. Participants of the events discovered the hate speech phenomena, its roots, impact and consequences, debated about the freedom of speech, its role and possible restrictions, discussed important cultural, social, political issues on local and European level related to hate speech, learned about various national and EU initiatives and policies for combating hate speech and how each of us can promote tolerance and human rights. All the local youth events helped to broaden the understanding of emotional burdens hate speech causes to the victims experience. Local events in all the countries promoted a dialogue and peace building between ethnic minorities and the majority of the population, enhancing intercultural understanding of fears and possible problems e.g., between ethnic Latvians and Russians, Croatians and Serbs. Many testimonies of participants experiencing hate speech created motivating atmosphere to prevent hate speech and work with NGOs to broaden their knowledge on human rights.
Young people gained skills aimed at the ability to analyse information in social media in regard to hate speech and its narratives, develop critical thinking, and being able to actively react to hate speech narratives. The results of the events can be summarizes as following:
- raised awareness of young people about hate speech phenomena, its consequences and impact on the victims, especially minorities;
- empowered youth to tackle hate speech through counter narratives and influence related policies;
- produced recommendations to policy makers and young people in a creative way on how to tackle hate speech;
- strengthened sense of responsibility for creating inclusive society without hate, based on democratic participation and European values;
- promoted debates and exchange of ideas among young people discussing and sharing their opinion about issues of European importance and increased interest in further debates;
- provided safe space for peers to meet and learn with/from diverse international group of participants;
- participants representing minority groups became more confident, which will result in their further more active civic participation;
- all participants of the project became more informed about current European issues;
- participants are empowered to promote values of peaceful, cohesive and diverse Europe.
Participants of the events created own messages for prevention of hate speech addressed to their peers, local authorities, and the EU institutions. E.g., young people at local events in Lithuania produced "Manifesto for change" which includes possible action points to the young people, NGOs, local and national authorities, and EU institutions, on how to combat hate speech in Europe. Young people at local events in Bulgaria produced posters, comics, memes, and videos with messages against hate speech. Young people at local events in Croatia came up with several ideas for community events and set of rules for using online platforms.
Examples of youth messages:
To other young people:
Dear young people, when you see hatred towards somebody, do not be afraid, stand up, speak out.
Make love not war! Don't overlook minorities, think about consequences, listen and be open!
Educate yourself about hate speech and its harm.
Educate yourself and other people (friends, family, society) about the struggles minorities face, the ways to help and prevent minorities from struggling, how certain privileges affect someone's access to rights.
Do not stay indifferent: if you see hate speech, do not ignore it (politely engage with the "hater", report the comment to the administrators of the social media platform, media websites' administrators responsible for the comment section, alternative report platforms and, in cases of incitement to hatred, report to the police);
Everything you do, be open and inclusive!
Think before you speak.
Allyship/solidarity: participate in pro-human rights events (protests, gatherings, etc.) that do not necessarily involve you personally (Black Lives Matter, Pride events, pro-refugee protests, etc.)
Focus on ways to help marginalized groups and people who experience hatred.
Don't let your hatred make another person out of you!
Speak up for minorities!
Do not let the hate speech problem be forgotten!
Don't generalize, be more attentive and go more in depth!
Do not just walk away. See it, fight it, report it!
Check your facts – not everything you read is true.
Your words have power – use them carefully!
Even though hate speech can be removed on the surface, it still stays on the inside – consider the consequences.
Ideas matter -express yourself thoughtfully
Your action matters!
Think before you say!
To national authorities:
Include human rights education in schools, consistently through all the years.
Sensibilisation of society regarding topics such as discrimination and hate speech, oppression and marginalization; including older people who are no longer in the formal education system.
Improve education by including information about hate speech, propaganda and misinformation and encourage people to develop critical thinking skills to make them less susceptible to conspiracy theories, fake news and hate speech in the media.
Run a series of public campaigns to raise awareness on hate speech and its impact. No campaign without representation of and consultation with people in the affected communities/minority groups.
Pay attention to the mental health in schools (hate sometimes comes from being hurt: there should be enough psychological support)
Invest more in psychological help, make psychologists/therapists more available and accessible.
Encourage people to seek professional help/therapy and work on removing stigma from mental health problems and seeking help.
Care for neglected people in institutions.
Work to build trust in the police and the criminal justice system amongst people vulnerable to hate speech.
More guidelines and regulation for social media and news media regarding hate speech.
Effectively address hateful speech by Members of the Parliament, the media, etc.
Legal measures to seriously fight against hate crimes, sexual and gender-based violence, homophobia, transphobia, racism, ableism, and other types of systematic oppression and discrimination.
Support for the European Commission initiatives on addressing and combating hate speech.
More cooperation with EU institutions on addressing and combating hate speech.
Experiencing hate/hate speech/hate crimes is not something people have to endure; enable people to speak up about their experiences, and make sure they know how to report hate speech/hate crimes.
Collect, centralize and share information about where people can go for support, cooperate with organizations providing support.
Representation on all levels: as much as possible, people who are speaking about hate speech, leading trainings, working on policy, should be those who are affected by it.
Include people from marginalized groups in decision-making and policy-making, consult with them on the questions that concern their rights and experiences.
It starts with us. We lead by example. We are all humans and those in charge, are here to protect: Always!
We are the future, but we are looking up to those in power.
To the EU:
Strengthen the EU legal framework on combating hate speech and hate crimes:
More power and authority to European institutions, ensuring respect for human rights.
Push EU countries to protect human rights and provide a better standard of living for all people:
- Advocate for better healthcare, psychological care in all EU countries
- Push for better working conditions, higher wages and pensions, progressive taxes, etc. in EU states.
- More free time, better labor laws, address the material conditions to create a more tolerant society
Make international youth projects more available and accessible.
It is not enough to give minorities information or the space of voice is not enough – make sure funding is available and accessible for meaningful initiatives that address the needs of minority groups in EU countries.
Adopt a long-term strategy for systematic change to reduce hate, fragmentation and tensions in society.
Support education and give more funding for anti-hate speech activities!
The local events are organised in the framework of the project "Active European Citizens Against Hate Speech". The aim of the project is to raise awareness of the new generation of European citizens about the impact of hate speech on democratic participation and European values. The project is implemented by the "Latvian Centre for Human Rights" (project coordinator), "Participation for All" (Latvia), "Estonian Human Rights Centre", "Human Rights Monitoring Institute" (Lithuania), "Multi Kulti Collective" (Bulgaria), "Human Rights House Zagreb" (Croatia), "Peace Action Training and Research Institute of Romania - PATRIR". The project is co-funded by the Europe for Citizens Programme of the European Union.

Published: 2022-07-08