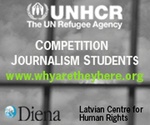 You are standing at the doorstep to an article competition for journalism students in the Baltic and Nordic countries – with career boosting prizes.
In a world of people on the move – who are the refugees among them and why are they here?
Write from a local, national or European perspective. Write factually or write passionately. Write about policies or people. Write in your national language (not English).
The winning article in each country will be published in a leading national newspaper, in June 2009.
An overall winner will be invited to join in UNHCR's annual Nordic press trip to a major refugee operation during autumn 2009.
The competition is organised by UNHCR's Regional Office for the Baltic and Nordic countries in cooperation with national newspapers and NGOs in all eight countries.
More information on the website www.whyaretheyhere.com
Published: 2009-04-08