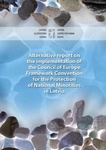 On 26 May 2005 the Saeima passed the law On the Framework Convention for the Protection of National Minorities, thus ending 10-year-long period of discussion of the ratification of the Convention, signed by the Latvian government on 11 May 1995. On 3 October 2006 the Cabinet of Ministers approved the first State Report of the Republic of Latvia on the implementation of the Framework Convention in Latvia. Despite announced intentions declared by state institutions, no broad public discussions were held and no national minority organisations were involved in the report preparation process.
In order to promote discussions about the impact of the Convention on minority rights in Latvia, the Latvian Centre for Human Rights (LCHR) has prepared a "shadow" report, which aims at providing information on the implementation of specific articles of the Convention in Latvia. The shadow report does not provide general analysis of legislation and other normative acts, but focuses on practical aspects of the implementation of the rights enshrined in the Convention, thus providing complementary information to other reports, including the state report.
The shadow report provides information on articles 3, 4, 6, 10, 11, 12, 14 and 15 of the Convention. The report also includes the two norms declared of limited applicability by Latvia (Paragraph 2 of Article 10 and Paragraph 3 of Article 11). Special attention has been paid to the implementation of Article 15, which aims at ensuring the effective participation of persons belonging to national minorities in economic, cultural, and political life, as well as determines the state responsibility to ensure and facilitate conditions necessary for such participation.
Attachments
Published: 2008-12-02